Performance Improvement
When patients judge the quality of health care services, they look for two things:
1. that the healthcare provider can meet their need, and
2. that the healthcare provider can make them happy while they are meeting those needs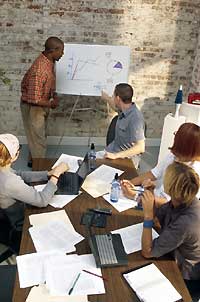 Finding ways to retain most or all of the potential patients in a healthcare organization's service area is important to the survival of our providers. As organizations develop their strategic plans, serious attention needs to be given to the important role that performance improvement activities play in creating and sustaining strong patient and community relationships by promoting quality services.
Service is about relationships. It's about connecting with our patients and communities, understanding their concerns, challenges, needs, expectations, and perceptions and then creating value by meeting their needs. Too often, particularly in times of financial hardship, management activities focus on short-term goals that frequently tends to devalue what customers view as important. Success is predicated on understanding the importance of and taking advantage of an organization's intangible and intellectual assets, such as high quality services, motivated and skilled employees, and creating responsive, predictable internal processes. To achieve this, organizations need to focus on turning their performance improvement programs into integral components of their business strategies.
In their present condition, many Performance Improvement programs are not prepared to make the contributions necessary for organizational success. They have historically taken on marginal importance from a business perspective and their structure reflects this. This is, in large part, due to the general business philosophy in the United States which is less supportive of long-term corporate investment and places great emphasis on short-term returns. The emphasis is on current financial performance (less than 90 days). This philosophy tends to promote under-investment in intangible assets such as product and process innovation, employee skills, performance improvement and customer satisfaction. Internal development activities in which returns are difficult to value in less than 90 days are frequently treated as variable costs that can easily be cut without consequence.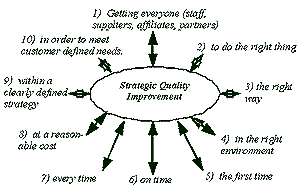 Secondly, because of the way quality initiatives were introduced into health care and the tension that they tend to create between healthcare organizations and outside agencies, many organizations view them as a necessary evil for regulatory and accrediting compliance. This focus has made it difficult to recognize their strategic importance and has promoted a reliance on traditional quality assurance activities. Quality improvement activities in many organizations are not nearly as strong as they need to be. For many organizations, the peaks and ebbs in their quality improvement process can be directly correlated to their survey cycles. This approach is counterproductive. It's very stressful on employees and tends to create conflicting messages about organizational commitment to quality, staff performance, and overall improvement.
The focus of a successful performance improvement program is clearly aimed at attacking problems, not people. The cause-and-effect nature of effect performance improvement programs help employees visualize and understand how their actions contribute to or detract from the quality of the services provided, patient and community perceptions of their actions, and the ultimate success of the organization. It is important that individuals understand the negative impact without it being made personal. Successes need to personalized and opportunities to improve need to be treated as opportunities not failures.
This approach is particularly important in highly specialized, people intensive industries such as healthcare. Strengthening performance improvement activities, with a refocus on building on successes, is going to prove critically important for the survival and success of healthcare organizations. Our success can not be achieved through demoralization and by breaking the backs of our healthcare teams. For rural and smaller providers, these efforts will play a key role if they are to stop the outmigration of patients, retain qualified professional staff, improve profitability and overcome perceptions that negatively impact their relationships with their communities.