Risk Management
If something has been done a particular way for fifteen or twenty years, it's a pretty good sign in these changing times, that it is being done the wrong way.
Elliott M. Estes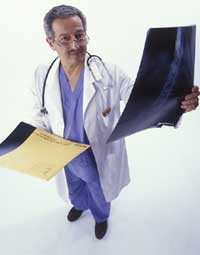 Health care has changed dramatically over the past three decades and that rate of change is projected to escalate. Some experts project that the rate of technological growth that the healthcare industry has experienced in the past one hundred years will repeat itself again in the next decade. With that rate of change comes increased risk and exposure for our healthcare organizations if our risk management programs do not keep pace. The more complex role of the healthcare professional, the rapidly changing face of health care due to technological growth, and the increasing number of financial and operational pressures make risk management more important than it has ever been. Strengthening risk management processes and outcomes is critical to protecting an organization's assets and creating strong patient/provider relationships.
The healthcare industry is facing a new medical malpractice crisis of unprecedented magnitude. At a time when providers are experiencing serious cash flow problems, escalating malpractice and workers' compensation premiums, serious staffing shortages, and declining public opinion, risk management must be far more effective in reducing and controlling risk. Activities must be outcome-oriented.
Over the past three decades, risk management activities have been primarily process-oriented. Today risk management activities must produce measurable outcomes that reduce risk exposure, promote loss prevention and reduction, and better manage claims and risk financing. Risk management must become a close operational companion to quality and performance improvement. While performance improvement focus on moving the organization forward towards its strategic goals, risk management services as the buffer to these activities to assure that the hospital's reputation and operations are protected.
The focus on regulatory compliance has become an almost obsessive aspect of most hospital risk management programs. No time is left for those activities that are necessary for moving the organization forward. This is a dangerous level for operations as it focuses on day-to-day survival with no time to create strategic growth. Without serious change, the outcome is frequently a continued downward spiral. A healthy risk management program helps to protect the hospital today while supporting those activities necessary for creating tomorrow.
In the past, risk management activities focused primarily on preventing and managing exposures to general and professional liabilities. Today, the risk of exposure and loss comes from so many directions and so fast that many risk management professionals find it nearly impossible to run fast enough to remain proactive. For the healthcare industry, risks come from sources such as:
Medical malpractice
General liability
Infection control
Regulatory compliance
Managed care contracting
Mergers and acquisitions
Employment and employee benefit management
Work-related injury
Corporate compliance
HIPAA
EMTALA
Ethics
Quality improvement
An effective risk management program achieves the balance necessary to protect the hospital on all levels.